Xifan Wang, Ph.D.
Quantitative Research Analyst
Salient 
Thursday, Sept. 23, 2021
2:30 p.m. - 3:35 p.m.
CoFES members who wish to attend, email cofes@rice.edu.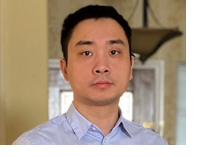 Xifan Wang
is the Quantitative Research Analyst for Salient's energy infrastructure complex. His primary responsibilities include statistical research and analysis of market data as well as the building and management of quantitative models. Prior to joining Salient in Jun. 2020, Wang served as a researcher at Rice University's Department of Physics and Astronomy where he mainly focused on statistical modeling in condensed matter physics and optical topics. He earned a Ph.D. in physics from Rice in 2020, an M.S. in materials engineering from the University of Dayton in 2013, and a B.S. in mechanical engineering from Sichuan University in 2009.