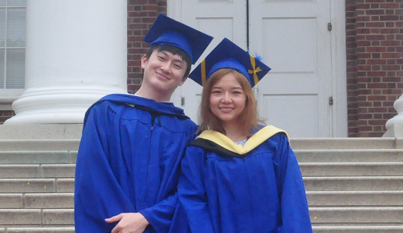 By Shawn Hutchins
It is about a 16-hour drive between Shiyuan Wang and Kexue He's home cities in China. For most of their lives, the only commonality the Rice University statistics graduate students had was they both grew up in major cities located alongside a great Chinese river. 
Shiyuan is from Guangzhou, an important port and capital city in south China's Guangdong province nested in the country's Pearl River Delta. Kexue is from Zhengzhou, the capital city of the Henan province in east-central China, which is known for its ancient culture and historical sites situated along the Yellow River. 
Each year a growing number of international students leave their home country to pursue academic studies at top-ranked American universities, experience the mix of international cultures, and explore nearby cities.
The confluence of Shiyuan and Kexue lives began in college and carried them through graduate studies during a global pandemic. The journey started in 2015 with a one-way 8,000-mile flight and navigating visa and student immigration regulations to attend the University of Delaware for their undergraduate degree. 
Although Chinese children start to learn English at an early age, taking classes at a university in a non-native language can be overwhelming. 
"We were involved with the English Language Institute at the University of Delaware from the very beginning, which is part of a pre-university program that works with students to make sure they are prepared to succeed," said Shiyuan. "The amount of timeline you are in the program depends on how quickly you learn." 
The University of Delaware's English Language Institute (ELI), founded in 1979, is housed on the university's campus and is well known in China as a pathway program that also provides students with the support and services they require to make the transition from China to life in the U.S. 
Shiyuan was in the ELI program for six months and Kexue for eight. It was where they first met – not online, not through an app, but among fellow students from around the world.
In addition to opportunities to study abroad, American basketball is also embraced by the Chinese. The NBA's popularity has surged over the last decade as teams and individual players have found ways to engage with their fans in China.
"Basketball has a long history in Asia and is hugely popular in China," said Kexue, who is a Philadelphia 76ers fan. To tease her Shiyuan says, "The Houston Rockets are the best." The one thing they both agree on is they love the speed of the game and the thrill of seeing an NBA game in person. 
For American students, pizza or Chinese food is the Holy Grail. Unfortunately, the Chinese food in the dining hall or even some restaurants is very different than the authentic recipes served at home. Kexue, says a sign of a good restaurant is when a lot of people are enjoying the food, talking and laughing. 
One of Kexue's favorite American traditions is when people sing happy birthday in a restaurant. "The whole restaurant celebrates with them, which was new to me as oftentimes people in China can be very reserved."
In December 2019, Kexue graduated with a B.S. in statistics and a minor in mathematics and economics. While Shiyuan was finishing his B.S. in chemistry, Kexue worked as a research assistant for Thomas Ilvento, a professor in the university's Department of Statistics, and as a data analyst for the Center for Global Programs and Services (CGPS) working on a project with Chunbo Fan, an assistant professor in statistics.
The couple found themselves among hundreds of thousands of Chinese students at U.S. colleges or universities who had completed their undergraduate studies and were in transition when the COVID-19 cases surged in the U.S. They, like many international students, decided to stay and persevere during difficult personal and educational circumstances.
Shiyuan and Kexue found support through the social network they established at the University of Delaware's Chinese Christian Fellowship, where prior to the pandemic Kexue had organized weekly musical worship, arranged transportation and other services for students, and organized Chinese Spring Festival Events. 
Then during the rebound of the epidemic in late summer 2020, they drove 1,500 miles in three days with their portly calico cat, Meatball, to Rice University to start the professional master program in statistics.
"It was a difficult trip because of the elevated infection rates. The vaccine was not available yet and the majority of the states we drove through did not impose mask mandates, leaving the decision largely up to individuals," said Kexue.
Shiyuan said at the beginning of our life in Houston, "We were cautious about going out in public. Houston is one of the biggest cities in the U.S. and when I searched online for the COVID-19 cases in Texas, one of the largest concentrated areas was in Harris County. I was relieved to find Rice followed strong policies to control COVID-19 and did lots of testing." 
During the 2020-2021 academic year, both became ingrained in online learning. They benefited from walks in city parks and invested in a Texas State Parks Pass. They also found a community of friends at Cornerstone Christian Fellowship, the college fellowship of the Houston Chinese Church.
Shiyuan and Kexue say they have not been as worried about COVID-19 on the Rice campus. Although they are still paying a lot of attention to the ongoing pandemic, this past July they drove to see the Rodeo Championship at the Fort Worth Stockyards where Shiyuan bought a cowboy hat and Kexue rode a Texas Longhorn. During the summer break, they also returned to Newark and officially announced their intention to marry at the Chinese Christian Fellowship.
After completing their professional master in statistics, Shiyuan with a specialization in statistical computing and data mining and Kexue with a specialization in financial statistics and the statistics of risk, they will rejoin their families in China. 
Shiyuan has secured an internship with Tencent Games, the video game publishing division of the Chinese multinational technology conglomerate, to focus on online game data analytics. Kexue will be interviewing for jobs as a data science practitioner after completing her internship at Accenture.
The next step in beginning their life together will be to choose a lucky wedding date.