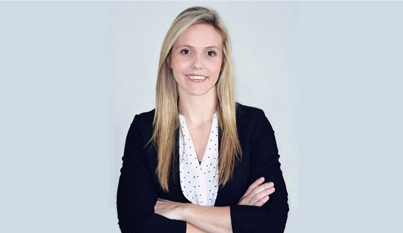 By Shawn Hutchins
Before Kim Raath was the first student at Rice University to finish a doctorate in statistics and a professional master in economics simultaneously; even before she completed a B.S. in mathematics and minor in statistics under a track and field scholarship at Arkansas State University (ASU), her true passion was to help people escape poverty and inequality.
Raath's journey to becoming a humanitarian began in Pretoria, South Africa. Her journey to becoming a co-founder and CEO of an international tech startup began at Rice.
Growing up in South Africa in the 1990s, she witnessed economic inequality and impactful human rights developments. After high school graduation, Raath took a gap year backpacking through remote regions of the world and working with non-governmental organizations. While on this journey, she formed a vision of how her future education could be used to rebuild and strengthen business communities in the developing world.
Outside her studies at ASU, Raath used her resources as an athlete to start a micro-enterprise program that brought shoes to student athletes in South Africa. The project, called Hand Me Your Feet, met the students' immediate needs, but she questioned its sustainability.
"I am all about using knowledge to tactically drive change," said Raath. "But I needed a way to create change in remote areas of the world where there are few roads and little access to energy."
As Raath was working toward her undergraduate degree, she was inspired by a TEDxHouston talk given by Rice 360° Institute for Global Health's Rebecca Richards-Kortum and Maria Oden. Richards-Kortum is the Malcolm Gillis University Professor, founder and director of Rice 360°, and Oden is a full teaching professor of bioengineering, director of Rice's Oshman Engineering Design Kitchen (OEDK) and co-director of Rice 360°.
"So when I listened to the talk about how Rice 360° built a digital ecosystem around a platform of low-cost devices and trained clinicians and biomedical engineers to advance and maintain those technologies, it really sparked my interest in how digital infrastructures could be used to grow global value chains," said Raath, who spent a year with Rice 360° measuring the outcomes of student-designed devices and serving as an ambassador to the institute's international partners. She also spearheaded the organization of the 2015 Undergraduate Global Health Technologies Design Competition and was a teaching assistant for introductory design courses.
"While traveling in developing countries, what I found most evident was the need for better digital infrastructure to help businesses realize their full economic potential," explained Raath, who started her doctoral studies in statistics and professional master's degree in economics in 2015 with advanced time-series modeling serving as the backbone of her thesis.
"Through the emergence of the Internet, cloud computing, artificial intelligence, platform technologies and cryptocurrencies, I see a lot of untapped potential in securing foundations for stable and sustainable economic growth," Raath said.
During the first year of her doctoral studies, she attended a life-changing workshop on cryptoledgers and cryptocurrencies hosted by Rice's Center for Computational Finance and Economic Systems (CoFES). Conference presenters Rice alumnus Dexter Senft, former managing director at Morgan Stanley, and Symbiont.io, Inc.'s CEO Mark Smith, discussed both the bitcoin currency and the diverse applications of its record-keeping technology blockchain.
Raath was hooked. She knew she found the link to developing digital ecosystems that can empower suppliers of goods from remote sources around the world.
"The idea for
Topl
came from some of the workshop conversations. I also met my future Topl partners," said Raath. This included CTO
James Aman
, who earned his Ph.D. and M.S. from Rice in atomic/molecular physics in 2019 and 2016, respectively, and Chief Architect 
Chris Georgen
, who received a B.S. in chemical physics and a B.A. in mathematics and philosophy from Rice in 2016.
Since its official founding in 2017, Topl (a pun on "topple" and a play on "topology") has used blockchain as a digital railroad to ensure increased tracking and visibility of business processes that drive impact. This includes product traceability and tamper-proof digitization of records, which leads to measurable validation of certification claims.
Based in Houston, TX, Topl has clients in the U.S., India, Europe and Africa. A Dutch spice company, Verstegen, uses a traceability platform powered by Topl to certify its nutmeg business, starting with farmers and the processor. The company has raised over $1 million to support 10 employees and continue developing its technology.
"Understanding the incredibly diverse obstacles and necessities of supply chains originating in developing markets is no easy task," Raath said. "We built a purpose-driven blockchain that automates the tracking, measuring and mechanizing of claims made about single-origin supply-chain products."
For example, Topl's Precious Gems and Metals application serves as a traceability platform that allows mines, distributors and retailers to securely and efficiently capture and highlight the full ethical and sustainable journeys of their products, from mine to the consumer.
"I am so thankful to Professor Ensor for all her support and for allowing me to start a company while completing my graduate degrees," said Raath.
As a graduate student, Raath conducted research with the Kinder Institute Urban Data Platform and with CoFES through her adviser Katherine Ensor, the Noah G. Harding Professor of Statistics and director of CoFES.  
"I firmly believe that simultaneously studying economics added a holistic perspective to understanding the game-theoretic behavior of economic actors and its interconnectivity to statistics, computational science and risk assessment," Raath said. "Through Professors Ensor and Dobelman, CoFES has played a big part in advancing both my education and research."
Raath's doctoral research has been supported by the Ken Kennedy Institute of Information Technology and a Graduate Research Fellowship from the National Science Foundation to analyze the dynamically changing behaviors of economic and financial time-series. These needs have led to significant demand for methods that denoise extremely volatile time-series. As a result, Raath's thesis introduced a novel continuous wavelet transform (CWT) dynamically-optimized, multivariate thresholding method,
SSRN
. The most significant financial-economic
result
from the computational model published online through Social Science Research Network (SSRN) found that water prices, at certain time horizons, lead energy prices during specific localized economic events. The paper has been accepted to be published in Frontiers in Energy Research.
"At Topl, we are energetically enthused as to the number of ways blockchain can be used to address some of the world's toughest challenges from elevating the wealth of global economies to sustainably monitoring environmental change," said Raath.