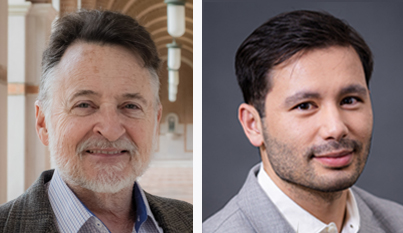 By Shawn Hutchins
Connections between the worlds of industry and academia have always been important. As advances in computing technologies and data-driven knowledge transform both environments, computational finance and quantitative risk analysis have become hot subjects to growing a talent that can meet fast-evolving and complex needs. 
This semester
John Dobelman
, a professor in the practice of statistics and associate director of the Center for Computational Finance and Economic Systems (CoFES), has joined forces with Rice alumnus
Max Lee
, a director at
BofA Securities
, the institutional broker-dealer of Bank of America, to co-teach and organize an invited guest lecture series for the Computational Finance course (STAT 499/699). To watch the lectures: visit the
CoFES YouTube Channel
.
Lee leads Bank of America's commodity and forex (FX) systematic strategy and index trading team in the development of tactical and systematic hedging strategies. After earning a B.A. in mathematical economic analysis in 2014 and an M.S. in statistics in 2015 from Rice, he joined Bank of America in Houston where he has focused on low-frequency alpha generation. To further develop his academic and professional knowledge, he completed a master's in information and data science at UC Berkeley in 2018, became a Chartered Financial Analyst (CFA) charterholder, and is a level II candidate for the Certificate in Investment Performance Measurement (CIPM®). 
"There are a number of opportunities for Rice science and engineering students to learn from subject matter experts in statistics, finance, and economics. In addition to weekly colloquium lectures, CoFES hosts an annual Eubank Conference, which discusses changing structures of financial markets and how quantitative scientists can assist with navigating change," said Dobelman.
"The greatest value of Max's lecture series is in the way he brings the theoretical or technical aspects of curriculum to life. He broadens student knowledge about industry and brings about real-world topics that aren't covered in a textbook," Dobelman added.
The industry-academia lectures have included discussions with:
When talking with students, Lee speaks about the importance undergraduate programs have in providing core multi-disciplinary foundations. He says, "Graduate degree programs further this knowledge and offer valuable research and publishing opportunities. Then industry environments develop more company-specific skill sets and training."
The key messages Lee shares with students are, "There may be obstacles in your path, but across the board there is opportunity. There's more than one way or one workplace that can open the floor for you to grow and succeed."
Since its founding in 2002, CoFES has collaborated with departments at Rice University's
George R. Brown School of Engineering
,
School of Social Sciences
, and the
Jones School of Business
to offer interdisciplinary training programs and courses. This has included open events, such as the
Eubank Conference on Real World Markets
, and many specialization courses and research opportunities in financial technology.