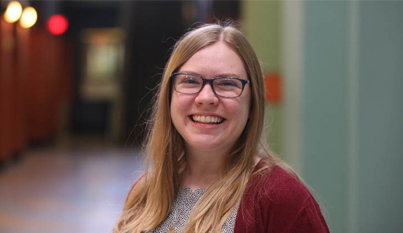 By Shawn Hutchins
Carly Fagnant is lead author on a paper selected for the
Risk Analysis Section's
Runner-Up Award in the 2020 JSM Student Paper Competition of the American Statistical Association (ASA). 
As part of the award, Fagnant, a fourth-year doctoral student in statistics at Rice University, will present the paper virtually as part of the
Joint Statistical Meetings (JSM)
, August 2 - 6, 2020.
Working with her doctoral adviser and senior author on the paper,
Katherine Ensor
, the Noah G. Harding Professor of Statistics, Fagnant's projects fall under the 
Rice Houston Engagement and Recovery Effort (HERE)
and the Rice's
Urban Data Platform (UDP)
. She and Ensor have been collaborating with Rice's Department of Civil and Environmental Engineering (CEE) since 2017 to re-evaluate extreme rainfall levels and floodplains after Hurricane Harvey.
Paper co-authors also include:  Rice CEE alumni Avantika Gori now at Princeton University and Antonia Sebastian of the University of North Carolina at Chapel Hill, and flooding expert
Philip Bedient
, the Herman Brown Professor of Engineering, CEE department chair, and director of the
Severe Storm Prediction, Education and Evacuation from Disasters (SSPEED) Center.
In the paper titled,
"Characterizing spatio-temporal trends in extreme precipitation in southern Texas,"
Fagnant and co-authors show spatial patterns of how extreme rainfall levels in the region have shifted across time. The researchers used a statistical method, called a peaks-over threshold model, to analyze heavy rainfall events, such as those seen during the three 500-year floods experienced in the Texas Gulf Coast Area in 2015, 2016, and 2017.
"The knowledge gained from this study is important because it will provide more up-to-date data on extreme rainfall distribution patterns, such as how precipitation has changed over time and how this affects flood management within Harris County watersheds," said Fagnant, a native to the Houston area who saw the social and economic impacts of these storms firsthand.
The researchers gathered precipitation data from over 600 rain gauges across the region and analyzed this detail in 40-year time windows from 1900 – 2017 to evaluate shifts in distribution parameters and extreme rainfall levels through time.
"We are seeing a pattern of more intense storms more often, and changing rainfall extremes can affect how floodplains are drawn. Through this research, we hope to produce results that we can bring to the city of Houston to inform greater strategic planning and risk mitigation."
Fagnant's doctoral research is supported by a
2019 National Defense Science and Engineering Graduate (NDSEG) Fellowship
and a graduate fellowship awarded in 2018 by
Exxon and the Ken Kennedy Institute for Information Technology.