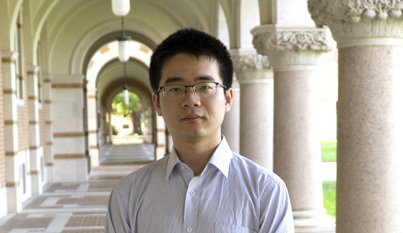 By Shawn Hutchins
Meet Yifan Zhang, a 2020 graduate from the
Professional Master in Statistics (M.STAT.)
program at Rice University. This fall Zhang will start his doctoral studies in business with a
focus on finance at Rice's Jones School of Business
.
Zhang is originally from Baoji, Shaanxi Province, China. He has always been a hardworking student, who finished high school scoring in the top one percent of the Chinese National College Entrance Exam. In 2014, he started his undergraduate studies at the Shanghai University of Finance and Economics (SUFE), one of China's best universities in the field of economics, finance and statistics. He finished his B.S. in economics and a B.A. in management from SUFE in 2018.
How did you know graduate studies in statistics was the path for you?
When I was a senior at SUFE, I had an undergraduate internship as an assistant investment manager at Huatai Securities Co., Ltd where I was exposed to factor investing in the Chinese A-share market.
During the internship, I became captivated by a series of publications on asset pricing that introduced me to advanced finance concepts, such as idiosyncratic volatility - one of the most actively researched asset pricing puzzles. After studying financial models, such as Robert F. Stambaugh and Yu Yuan's four-factor model, I was extremely impressed by how well they accommodated different anomalies. Ultimately, I declined the return offer from the internship and decided to start to prepare for my doctoral studies in finance.
What brought you to Rice?
I believed I should attend a master's program that would better prepare me for doctoral studies. Rice was at the top of my list because of the low student-to-faculty ratio and the opportunity to conduct research. To improve my research abilities, I wanted to collaborate with professors and doctoral students; to learn from them and produce high-quality research like them.
Plus Houston is my favorite city! It has a relatively low cost of living and convenient transportation. The city's multinational population is one of the reasons it offers so many different kinds of great food.
What did you like about Rice's M.STAT. program?
The curriculum plan is excellent. It provides six specializations, including my interest – Preparation for Ph.D. Studies in Statistics, Mathematical Economics, and Finance. The M.STAT. also allows enough freedom for students to take Ph.D. level courses in advance. This is a big advantage when applying to Ph.D. programs.
What research projects have you been involved with while at Rice?
I have conducted research with CoFES for one year working on projects in financial economics and in urban analytics.
Working with
Professor Ensor
and doctoral graduate students Kim Raath and Michael Jackson, my research has been to apply a CoFES's Wavelet thresholding framework to better understand the relationships among different securities, and to forecast future financial-economic movements. The work has involved denoising time-series data computationally using wavelet analysis.
Wavelet analysis is a powerful mathematical tool that can also be applied to a wide range of fields. Within the financial economics field, it possesses several advantages. CoFES researchers, for example, are incorporating, developing and expanding on its application in the development of financial economic theory, or as a type of magnifying glass to inspect drivers of financial-economic phenomena. We are also working to share knowledge gained by developing a CoFESWave R package designed by former Ph.D. student Dr. Kim Raath.
What have your projects in urban data involved?
I have been working on a project with Professor Ensor to create a system for real-time monitoring of permitted locations in Houston based on data obtained from monitors placed on the city fleet of vehicles. As the cars naturally pass by the site, the tool grows in its scientific message.
The interactive Shiny App provides city decision-makers with a way to understand the pollution dynamics for a location. Using Dr. Ensor's design criteria, I wrote the template that contains this map. Users can click on any area to access the corresponding analysis result. The published app is available at 
https://kinderudp.shinyapps.io/app_02062020/
.
What in your opinion makes Rice University unique?
The faculty's commitment to students' success. During my two-year M.STAT. studies, many professors strongly supported me both in my coursework and research. I could not have made it into Rice's doctoral program in finance without Dr. Ensor's strong support.
I am also always impressed by how Rice Professors make difficult course material accessible! I believe that professors' classroom acumen is rooted in their deep understanding of the field.