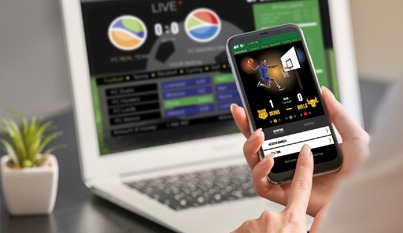 The
9th Eubank Conference on Real World Markets
 at Rice University took a close look at how computational tools and big data are impacting sports and changing fan experiences through gambling. 
Lectures from the
April 26, 2021 webinar
on sports analytics and gaming risk management have been posted on the Center for Computational Finance and Economic Systems' (CoFES) 
YouTube Channel
. 
The virtual event featured keynote speaker Ed Feng, founder of The Power Rank, 10 industry experts, and a panel discussion on sports betting now and then. Lectures underscored the rising popularity of international sports, the growth of the global sports betting market, and the importance of data-driven betting strategies, as well as industry concerns and the economic impact of legalized sports betting markets. 
The conference was co-sponsored by
CoFES
, the
Department of Statistics
, and the 
Department of Sport Management
at Rice University.
Lectures from industry experts included: 
Chris Anderson, Professor in European Politics and Policy, London School of Economics and Political Science 
Jerry Bo, professional sports gambler and radio host on Houston's ESPN 97.5 and 92.5 FM
James Disch, associate professor, Department of Sport Management, Rice University 
Hua Gong, assistant professor, Department of Sport Management, Rice University
Declan Hill, associate professor of investigations, University of New Haven
Ben Jedlovec, director of engineering and data quality, Major League Baseball
Daniel Kowal, Dobelman Family Assistant Professor, Rice University
Brian Macdonald, special faculty, Carnegie Mellon University
Tony Miller, executive director of race and sports, Golden Nugget Las Vegas
Wayne Winston, professor emeritus of operations and decision technologies, Indiana University
Eubank Conferences on Real World Markets, a central activity of CoFES, are a cooperative effort between Rice's
Brown School of Engineering
,
Jones Graduate School of Business
, and
School of Social Sciences
. The conferences are dedicated to the quantitative study of financial markets and economic systems and their ultimate impact on society.